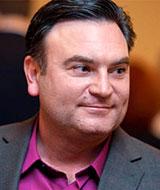 Justin Dobson has more than 25 years of experience in the home services industry. Doing work for residential and commercial clients throughout Northern Virginia, Justin developed a passion for solving customers' comfort issues and high energy costs, leading to the creation of Comfenergy in 2010. He currently focuses on marketing and business development, providing customer-centric solutions for HVAC needs.
Justin got his start in the family business, R.A. Dobson, Inc., in 1995. Under Justin's leadership, R.A. Dobson was recognized by Carrier Corporation on three separate occasions for excellence in service leadership. Additionally, R.A. Dobson was endorsed by the Loudoun County Chamber of Commerce as the Service Business of the Year in 2009.
His success in leading two separate companies led to his recognition as the 2015 Entrepreneur of the Year with the Loudoun County Chamber of Commerce. Justin remains active in the Chamber, the Home Services Solutions Group, and Association of Air Conditioning Professionals.
Justin is a graduate of Virginia Tech University with a bachelor's degree in marketing management and a minor in sociology. He and his family reside in Loudoun County, Virginia.